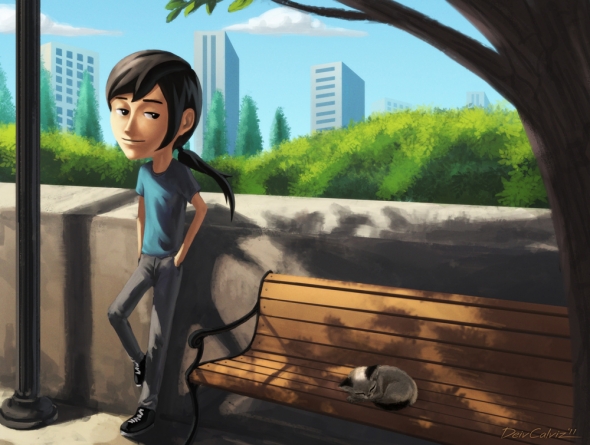 First post of the year… I KNOW! Where have I been?! Well, to be honest I'm still adjusting with "work life" among other things. I could say that I just started as a concept artist/illustrator this month. So far, it doesn't really feel like "real" work which is awesome. Being surrounded there by multi-talented people is really humbling, really. 😀 I wish I could show the few stuff I did but I can't post or say anything about them, unfortunately. I guess this the sad part of being an illustrator/concept artist.
Anyway, here's something new from me for my "about" page. I happen to pass by a cat sleeping under the shade of a tree at some random park but I didn't want to disturb it so… yeah, that seems right for something made up…  I was actually just studying how light bounces around during the day and this came out. I wanted to try something Goro Fujita-ish since he's a master of lighting and cute stuff. I think I pulled it off somehow. TIP: Always remember that the sky's color determines the tint of the shadows since it's the ambient light.
I'm gonna start posting my scribbles soon.. meaning really rough stuff… just to keep the updates flowing. I'm starting to go back to the basics again which could be boring for most people but I really couldn't stress enough how IMPORTANT it is to
MASTER THE BASICS.
This goes out to all the artists out there.  🙂
Looking forward to the rest of the year! Lots and lots of art experiments and contests!
Thanks for visiting!