Here's a new video for an old work of mine. This was supposed to be for a friend's birthday but I got too carried away as usual. I really like this piece because it's really cute. My concept was to throw in some cute animals carrying a cake which I twisted around until it became this. It could've been weirder and more original(especially the cat) but still, it was good practice.
Again, sorry for the quality of the video. Unfortunately, I won't be able to upload any real HD videos because my internet isn't really that fast. Also, sorry about the random pop-ups in the video. As you can see, my process is very messy for this one.
This isn't a tutorial but I hope you guys learn a little more about my techniques.
Also here are a few tips for digipainting stuff like this:
-Make sure that you have finalized your character designs if you are going to tackle on a complicated scene like this. I wasted time redesigning the bunnies on the spot.
-It's better to get references first before actually starting unlike what I did.
-Separating the characters from the background is very helpful if you want to put details on the background.
-Use custom brushes for fur! It took me a while to realize that my hair brush wouldn't work well for fur. You can download my brush pack at my interactive portfolio for the fur brush I used.
Thanks for watching!
This took around 15-16 hours to finish spread through a week, I think.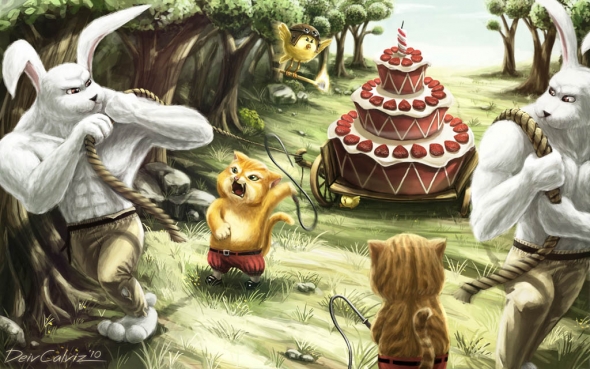 Music is by the awesome Alexander Blu! (creative commons)
http://www.jamendo.com/en/artist/alex…